How to Start a Blog using GreenGeeks Quick Launch tool in 30 Seconds!
How to Start a Blog using GreenGeeks Quick Launch tool in 30 Seconds!
A step by step guide to Start a Blog using GreenGeeks Quick Launch tool
By reading this guide, You will learn.
Which hosting is best and affordable
How to get free domain name
Steps to launch your blog in 30 seconds
Starting a blog is the best choice I ever made in my life.
As it not only helps to express and share knowledge but also makes money.
Plus, anyone can start a blog even if you are not a techie person like me.
And trust me, after following steps in this guide, your blog also will be ready to go online with greengeeks quick launch tool. Because this revolutionary tool by greengeeks just takes a few clicks & 30 seconds.
[couponplugin id="3416″ h="h2″]
Hi, I'm Basant Kumar, the founder of this blog. I started my blogging journey in 2016.
Back then, I didn't even know the first letter of blogging. And as a newbie to create my nest. I researched tons of hours on the internet.
Even bought some online courses and after spending so much amount finally, my first blog was built.
Now I know the art!
So to save your time and money that I spend as a beginner, I created this guide on how to start a blog in 2021 from scratch.
Let's dive straight into the guide steps.
Price- 2.49$/month (75% OFF)
Normally $10.95/mon
Free Domain for 1 Year
Unlimited SSD Storage
WordPress Optimized Hosting
Free SSL Certificate & CDN
300% Green Hosting
24/7 Customer Support
*30 Day Money Back Guaranteed.
Step 1: Select a niche

It is very crucial to select a niche or topic on which your blog will be.
Almost every beginner stuck on this step. That's why I picked this step at number 1,
So, what is a blog niche?
A blog niche is a carefully researched and analyzed specific topic on which you will write content for your blog.
And this specific topic will be your blog niche.
If you already have a niche in your mind then you are good to go next step. 
If not, Download this guide!
Want to know more, Download this- Secret way to find a Profitable Niche for Blogging (A step by step guide)
In this Guide, you will learn,
Step by step guide on How to find a profitable niche for blogging
How to do Reverse engineering for any blog niche
Keywords, content ideas, format and all important aspects of that niche
How competitive and profitable is that blog niche
+Bonus: already researched Most profitable blogging niches
Step 2: Find a Domain name

A domain name is your blog's brand name that will show online like my domain name is "semclouds.com"
Every website's domain name is different on the internet. No matter what type of blog or site is.
And you also easily find a good domain name for your blog without efforting so much.
All you have to care few things
Short and easy to remember: Come up with domain names that are short and easy to remember so that anyone can remember it after just reading one or two times.
Try to get a name between 10 to 15 texts.
Put niche keyword in it: Also try to put your niche or main keyword in your domain name. That way it will help you get rank higher on search engines. As it's a small ranking factor.
Use .com: After deciding name select .com on registration. It is a very popular TLD extension and used globally.
You can also choose country-specific TLD, but try to get .com on priority.
Don't use symbols or numbers:  Make sure to not use symbols and numbers in your domain name. That only makes your name irregular.
There are also some name generators on the net that you can use to come with some ideas.
But don't register it yet, we will do that in the next step of our guide. Where I will share how to get free domain with Greengeeks hosting.
Step 3: Get a good hosting

Choosing a good and reliable hosting is very important for any website.
Your blog's performance depends on it and if hosting is not good enough, soon you will face many problems in your blog like low speed and uptime, poor performance, crashes and errors.
That's why you need to select good hosting such as Greengeeks, they are the fastest growing hosting company in the world, rated A+.
And the best part is where other hosting providers polluting airlines,  greengeek hosting is 100% eco friendly and green environment protective.
Greengeeks services start from 2.49$/month under 75% off special offer with free domain name.
With their every plan greengeeks provide, 
Free SSL Certificate
Free Domain Name for 1st Year
Free Nightly Backup
Free CDN
WordPress Installer/Update
Quick launch tool
Unlimited Databases
LSCache Included
300% Green Energy Match
30-Day Money-Back Guarantee
How to Buy Greengeeks Hosting with Free Domain
1. Click this special link – to go to Greengeeks website and click on "Get Started Now" button.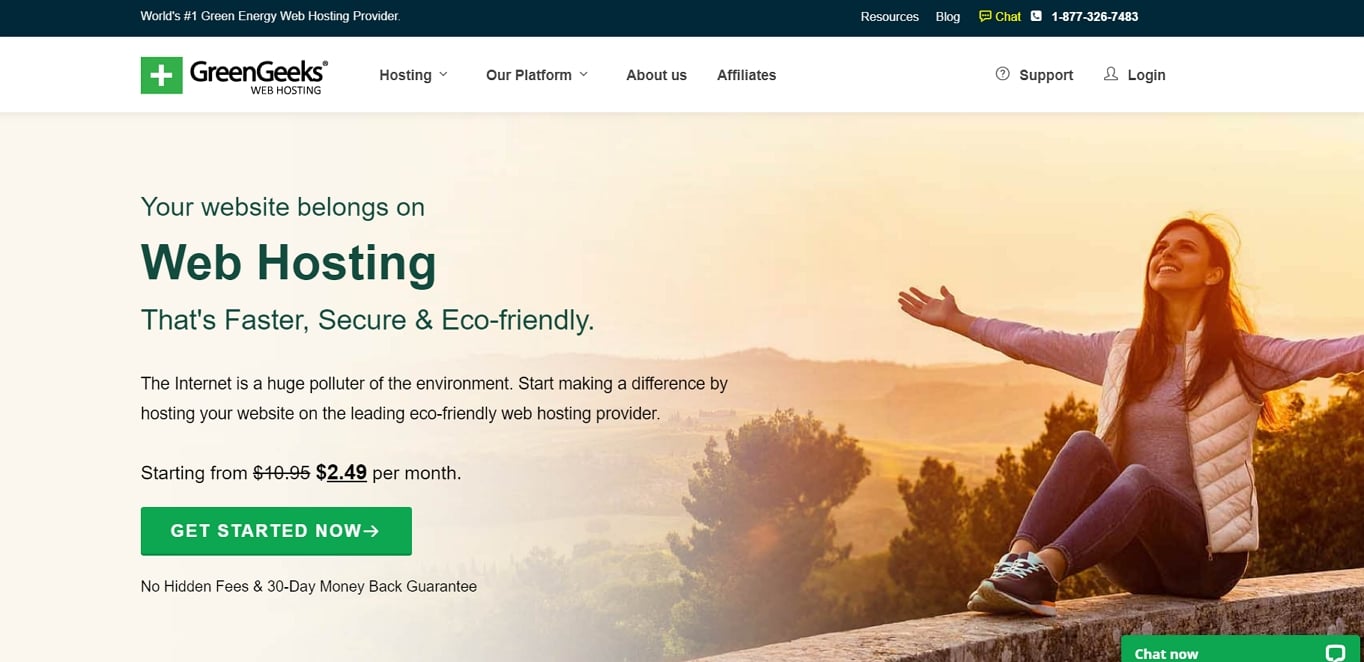 2. Choose the plan – You can select any plan from here as you need. But my suggestion is to choose Lite if it's your first blog and Pro if you have more blogs.
3. Enter your domain – After selecting the plan, on the next page, it will ask for the domain name that you want to register or transfer (will be 100% free).
4. Enter account details – This is the last step, enter your account and payments details and click on "register".
After this, you will successfully purchase greengeeks hosting and a confirmation email also sent in your entered email account. Make sure you remember your login credentials as it's required to login.
Step 4: Launch your blog in 30 seconds with the quick launch tool

All now remains to launch your site, which we are going to do 30 seconds with the help of Greengeeks Quick Launch Tool.
 So login to the hosting dashboard and click on "start new website"
Then select wordpress
Next, pick a theme for your site or remain it to default.
And lastly, click on "Create my site", That's all nothing techie, and Your site is live.
If you want more help, watch this Quick launch tool tutorial video.
https://youtu.be/cEbS1uewD-o?t=89
Benefits of using Greengeeks Hosting
300% green energy – Where other hosting polluting environments with their servers, greengeeks produce 3x (300%) green renewable energy for every site they host on their servers.
Free Domain – With greengeeks hosting, you are getting free domain  name for 1 year which will save upto 10$ as domain registration starts from minimum 10$/year.
Free SSL Security – Have you ever visited a site that showed a pop-up "not secured" and then exit the site, it's due to not using SSL. While other hostings charge for this extra, greengeeks giving SSL free for lifetime (even for basic plan).
1 click wordpress installation using quick launch tool – After buying the hosting, you don't have to read documentation or watch videos to install wordpress. Just 1 click and wordpress will installed (that's how easy to setup wordpress in greengeeks).
SSD storage – Greengeeks provides SSD (Solid State Drive)  storage with every plan(a way lot faster than HDD). Trust me SSD really makes the site load faster.
 Free Cloudflare CDN – Greengeeks also offering free CDN (content delivery network) with their plans. Whether you know this or not, CDN automatically increases the performance and speed of websites. And most hostings charge extra for this.
Free website backups – This is the best feature I like most about Greengeeks , Giving backups!. If something went wrong I always restore the backup to make my website normal and running.
Unlimited email storage & Bandwidth – No restrictions on email storage and bandwidth. 
24/7 customer support – You can always get in touch with support no matter what's the day or time. You can online chat, talk on phone or email for any help regarding hosting.
30 days money back guarantee – Even if you are not satisfied with Greengeeks services, then you can ask for a refund under 30 days time frame. And i think it's enough to test anything.
Website Speed Test with Greengeeks Hosting
Let's test out, how fast your site will be if you host on greengeeks.
As you can see, server response time is less than 1 second here and overall performance is A., which is amazing.
It's because of 2 main features of Greengeeks hosting, 
1. SSD storage – As I already told you above, SSD is a way of faster than Hard disk storage. And greengeeks offers SSD storage in their hosting plans. That's why server response time is so fast and less than 1 second.
2. CDN – With the help of CDN (content delivery network), users never feels delaying in site opening. It's because to minimize the distance between the visitors and your website's server, a CDN stores a cached version of its content in multiple geographical locations.
And the best part in their every plan Greengeeks offers free CDN.
Greengeeks Pro's and Con's
PRO'S
Environment friendly
Fast loading servers
99.9% uptime guaranteed
Free domain with any hosting plan
Free SSL site security and CDN
Professional 24×7 support via Phone, Chat and Email.
Easy to access cpanel
1 click wordpress setup
Unlimited Bandwidth and email storage
30 Days money back guarantee, if you are satisfied with their hosting.
CONS
Server locations only available in 3 countries.
You might also like these,
Best Email Marketing Services of MAY 2021 Here are the…
High DA Best blog commenting sites list: Blog commenting is…
Best Web Hosting Services of May 2021 Choosing good and…