Flyout.io- Earn money by placing sponsored content on your blog
Earn money by placing sponsored content on your blog: Blogging is fun, a habit, and more than these a business. And every business is built for earning money.
Don't take me wrong, you can pursue any habit but don't forget you also need money to fulfill that habit. Even you didn't think about this but money plays a major role in every aspect of life.
Same goes for Blogging, you can't go for long in this field if you are not making money from it.
And the best way to earn money is to monetize your blog!
There are many ways to monetize a blog, like Adsense, ads, affiliate marketing, etc.
And one of those ways is Sponsored Content.
so, What is Sponsored Content?
Sponsored content is the type of promotional content or media that is placed by a brand or influencer on your blog or social media. And for this content, you will be be paid that brand.
It can a post, image, either both, pdf file, etc.
Sponsored content is a form of marketing that getting popular these days, more and more brands doing this.
In simple terms, if someone wants to publish an article or an image on your site and offers money for it then this post will be a sponsored content.
Sponsored Content examples
Here are some sponsored content examples, 
Example:
As you can see in the above images, Buzzfeed blog mentioned that post as "Paid Post", which is a sponsored posting by famous brand Hot Wheels.
Please note: In some blogs, sponsored content can also be mentioned as
"Paid post"
"Presented by"
"Sponsored by"
"Partnered with"
"Promoted"
"Affiliated with"
"Powered by"
So don't get confused by that all these words meant the same Sponsored Posting.
More Examples: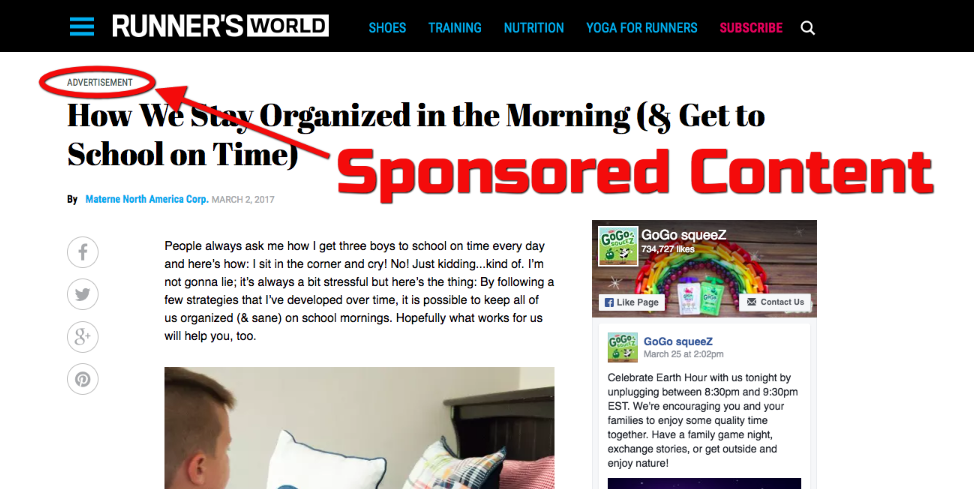 How much does sponsored content cost, or how much you should charge
Well, by sponsored content you can earn with your own price tag.
Which is depends on your blog's traffic, domain authority, and loyalty (how much people trust your blog).
Niche also play a major role in this, some niches are more profitable than others like Investment or insurance, marketing, health as there brands invest most money on marketing.
But for being simple, let's stick with traffic.
Traffic = Money
The higher your blog's traffic and DA = The more money $ you will earn,
Pro bloggers can charge up to $150 per post on their blog.
But if you are a newbie blogger and your monthly traffic is around 15,000/month to 30,000/month then you can charge 20$ for one post.
Double the price as your traffic increase like,
Traffic 30,000 to 60,000/month = 40 to 60$/sponsored content
60,000 to 100,000/month = 60 to 80$
more than 100,000/month = 80$ to 100$
This sponsored content price template will help you to decide your prices as a newbie blogger. Feel free to copy it for your success!☺️
Get Sponsored Content From Flyout.io
Feel free to pin this pic on your Pinterest!
There are not many ways to get sponsored content, either you will contact the brand or it will contact you.
But Flyout fulfilled this gap with there platform,
Flyout.io is a free, simple way to earn money by placing sponsored content on your blog. Over 2500 bloggers, chosen Flyout to monetize their blog
The platform is so simple, where you get many sponsored content easily in just 3 steps.
Step 1: Sign up & list your blog on Flyout.io
Step 2:  Verify of ownership for your blog
Step 3: Enter your blog details 
Before we head up to steps, many of you thinking so how the hell Flyout earns!
well, as I said above Flyout.io is a platform for connecting brands or agencies to Bloggers, who want to earn money by getting sponsored content on their blog.
And it earns via commissions.
When you sign up and list your blog on Flyout, after that your blog will be visible to brands/agencies listed on the platform.
If any brand or agency finds out your blog-worthy and meeting their criteria then they can order a sponsored post published to your blog from platform.
In that order brand, itself will provide you content and image. And have to pay the amount that you set on the price of sponsored content.
For example- if you set the one sponsored post price 20$, then this amount will be transferred instantly on your flyout account.
After that, all you have to publish that content on your blog. That's all!
Hooray!
you made your earning via sponsored content, it's that easy.
Now that's heads for the steps "How you can also list your blog on Flyout & start earning from Sponsored content".
Step 1: Sign up on Flyout.io
To start for listing your blog on Flyout, you have to sign up first – Sign up here
On sign up page,
Enter your blog URL in the blank space and click on "check eligibility",
Step 2: Verify of ownership for your blog
In step 2 you have to verify that you are the real owner of the blog.
You can do it in 3 ways,
Inserting the meta tag in your blog's header
Adding an HTML file in the root folder
By adding a TXT file in DNS records
The first way is easy and fastest way. All you have to copy the meta tag and insert it in the header. 
copy generated meta tag and insert it in your blog's header and click on "verify".
Step 3: Enter your blog details
All is left to enter a few more details.
now enter your blog details like it's category, your contact no. and price for 1 post. You can select multiple categories according to your blog niche. After enter, all required details click on "submit website".
In the end, enter your name, email address, and password then click on "add blog".
After that, you will get a confirmation email on your registered email address to verify your account.
Then log in your flyout account and goto blogs section, here you see your listed blog.
That will be in pending status and it will take 48-72 hrs to be approved.
But for high chances of approval & getting fast offers of sponsored content, you have to do some more things.
Verify GA: Increase chances of approval by getting your google analytics account with Flyout account. This will show your blog's traffic to Advertisers and the Flyout team. 
           All you have click on "verify GA" and do the steps as it narrates.
Instant Publishing: By enabling this option you will increase your chances to get higher orders.
 According to Flyout "Blogs tagged as Instant Publishing earns 78% more revenue than normal blogs."
In this step, you have to download install Flyout's Jason Auth plugin and activate it.
Then create a user.
Basically, what this plugin does, automatic instantly publish the post as soon as you get an order on the flyout.
After approval, your blog is fully ready for getting orders from the Flyout platform.
How you will be Paid on Flyout
For Indian users, Flyout offers a direct bank deposit and for non-Indian users, there is PayPal option.
Just go to Payouts section in your Flyout account and click on transfer preferences, here you can add your payment details.
Enter your name and bank details, then just click on "save payout settings"
Now your payment information is saved and ready to get payments.
Flyout sent payment every month's 8th to 14th for eligible publishers. If you earned 100$ in April month, then payment sent to you by 8 to 14 June.
Last Words
Sponsored Content can be the best option for new bloggers to earn money online with ease. All you need a blog that is generating enough traffic for getting attention from brands.
So, now it's your turn to turn your blog into a money-making machine.
And if you are facing any problems or have any queries, you can comment below.
I will be happy to help you out.
A small request – Please share this post, if you liked it!
Your  1  share can reach this article to more people and help us grow.
It will take just few seconds, Here are share buttons!
You might also like these articles
[tcb_post_list query="{'paged':1,'filter':'custom','related':|{||}|,'post_type':'post','orderby':'date','order':'DESC','posts_per_page':'3′,'offset':'1′,'no_posts_text':'There are no posts to display.','exclude_current_post':|{|'1'|}|,'queried_object':{'ID':1724,'post_author':'1′,'post_type':'post'},'sticky':|{||}|,'rules':|{|{'taxonomy':'category','terms':|{|'215′,'232'|}|,'operator':'IN'}|}|}" type="list" columns-d="1″ columns-t="1″ columns-m="1″ vertical-space-d="10″ horizontal-space-d="30″ ct="post_list-43446″ ct-name="Narrow 04″ tcb-elem-type="post_list" pagination-type="none" pages_near_current="2″ element-name="Post List" css="tve-u-1722fc15924″ article-tcb_hover_state_parent="" total_post_count="3″ total_sticky_count="0″ posts_per_page="3″ featured-content="0″ no_posts_text="" class=" article-tcb_hover_state_parent=" ][tcb_post_list_dynamic_style][/tcb_post_list_dynamic_style]
[tcb_post_title link='1′ rel='0′ target='0′ inline='1′ css='tve-u-1722fc15929′ link-css-attr="tve-u-1722fc15929″]

[/tcb_post_list]